You Have to Burn the Rope Reaches 1 Million plays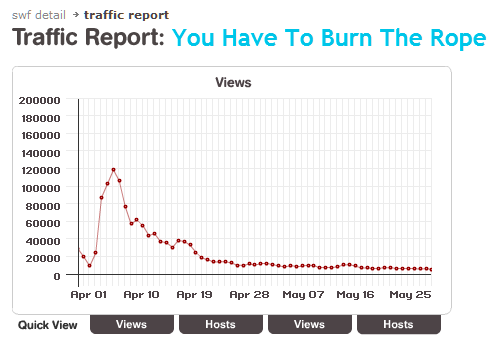 It feels like a long time ago Kian showed me the idea to You Have to Burn the Rope. I instantly loved it and asked if I could make the music. He'd already promised someone else to do it and wasn't sure he needed me. Lucky for me he did.
Little did we know the success it was going to be. We've been trying to follow the journey of the game and people's comments. Some people actually think that we had a plan. Believe me when I say, we had no idea! I was prepared to read many horrible comments about the music and then a couple of nice ones. That would have made my day. Now I've read so many positive comments that I'm actually starting to believe that I've accomplished something. I'm an artist, I'm supposed to have low self-esteem…
Even though we both enjoy the warm (mostly) welcome by the gaming community it's also been overwhelming at times. Both me and Kian are happy that the worst part is over. Now we can concentrate on future projects. I can assure you that you haven't heard the last of us yet. Both as partners in new games and on individual endeavours.
As the headline states, YHTBTR has reached one million plays. The credits song Now you're a hero has been downloaded more than 11.000 times. And that's only my statistics from Newgrounds and Reverbnation. I haven't checked it on MySpace (and I'm not even sure there are any). I found the song uploaded on a couple of servers which is great, but I wish there was a Mochibot for music as well.
The game's been reviewed a couple of times and got both good and bad critique. My favorite though is this one, by a 4 year old boy.